C Helical Gearmotor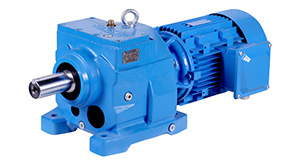 ◆ Low backlash gearmotor designed with flexible and modular concept.
◆ Excellent ecological design adds luster to your brand image.
◆ Small size and large center distance transmission structure, with 10% higher torque transmission capacity and load shock resistance.
◆ The FEA design of the casting housing, which improves the running stability by 30% and effectively reduces the noise of the whole machine.
◆ The large-modulus gear design and enhanced bearing arrangement ensure higher reliability and longer service life.
◆ Up to 95% modular design, international production, faster production and logistics cycles.
◆ Higher power density can save you mounting space and the overall structure is more compact.
◆ High reliability and long design life can effectively reduce your use and maintenance costs.
◆ Transmission stage: 2-stage or 3-stage.
◆ Mounting type:

◆ Output Shaft: Solid Shaft.

Chemical ● Crane ● Steel ● Power ● Mining ● Cement ● Paper