X3000 series controller is an intelligent modular controller independently developed by Boneng that supports 5 PLCopen standard languages,This controller supports one EtherCAT master station,One Modbus-TCP master/slave station, two Modbus-RTU master/slave stations, and a maximum of 1+15 local expansion IO modules,the maximum number of digital IO points is 240, the maximum analog channel is 60, modular local extension IO has DI, DQ, Al, AQ, CI five types, can meet most of the automation equipment and process control needs.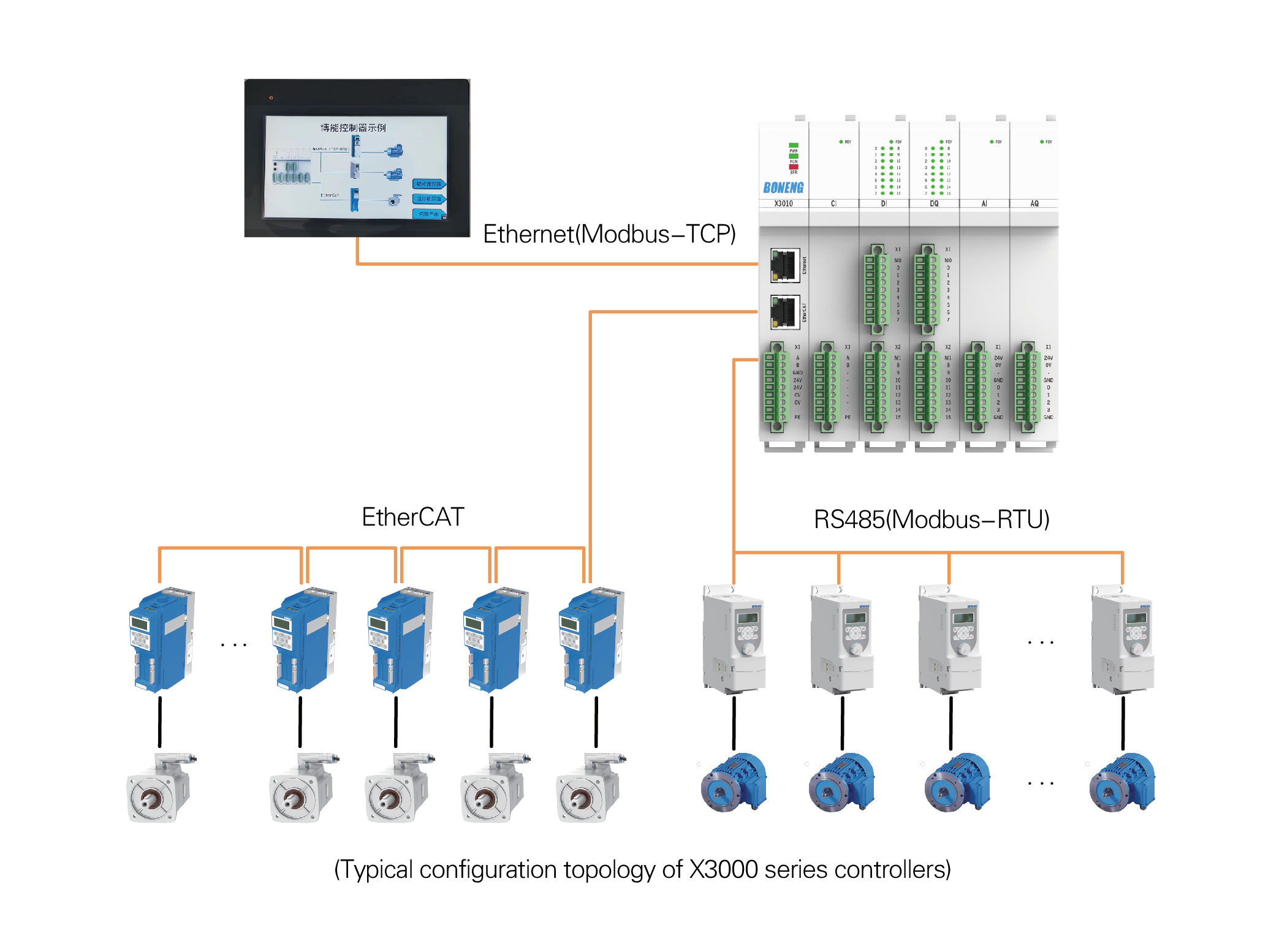 1. User-Friendliness,Easy to Use
◆ The controller development software is small, easy to install and use.
◆ Support LD, ST, FBD, SFC, IL five PLCopen standard programming languages, in line with IEC61131-3 standard.
◆ I/O variables support indirect symbol access, absolute address access, support variable in the form of text batch definition, improve programming efficiency.
◆ Support Ethernet interface programming, no special programmer, ordinary network cable programming, debugging speed is fast, easy to use.
2. Compact,Flexible Configuration
◆ Book type narrow body design, compact structure, save installation space.
◆ Support modular local I/O expansion, digital and analog I/O flexible configuration, up to 1+15 I/O expansion.
3. Excellent Performance,Abundant Function
◆ Support EtherCAT master station, can drive EtherCAT slave station equipment, with Boneng drive, can realize fast connection and drive.
◆ EtherCAT master station supports PPPV uniaxial positioning control, multi-axis positioning motion controller is under development.
◆ Supports two Modbus-RTU master and slave stations, can access Modbus frequency conversion driver, can also access Modbus instrument.
◆ Supports one Modbus-TCP master/slave station, and can access HMI devices.

CPU module
The CPU module of Boneng X3000 series controller is divided into PLC type and motion controller type, and the specific order number is as follows.

Local expansion IO module
There are five types of local expansion IO module of Boneng X3000 series, of which the Modbus communication module can be expanded by up to one. It is recommended to install it on the right side closest to the CPU. Other DI, DQ, AI, AQ modules can support up to 15, and the configuration and number can be flexibly selected.